Let's find you the best desktop microphone for your dictation needs. Or at least get you on the right path.
Dragon professional individual 15 software is now able to automatically control the gain of your microphone. This means that it will compensate for how far or near to the mic your mouth is. This opens up a new world of possibilities. The first of which is the ditching of your headset and going with a desktop or handheld microphone.
I have divided this very long page into 3 subsections that you can click below and navigate to quickly to what type of microphone you intend to research.
In this review, I'll be sharing with you which desktop microphones are proven to work the best for speech recognition software like Dragon professional individual. I have taken into consideration suggestions from the Dragon Riders Facebook group which is one of the biggest groups dedicated to dictating with Dragon NaturallySpeaking. I have also scoured through hundreds of reviews on some of the bigger shopping sites to see exactly what users of these microphones experienced when using them with speech recognition software.
By the end of this review, you should be able to have an idea of various types of desktop microphones, the pros and cons of using them and the type of accuracy others have gotten with them. I hope this should be able to steer you in the right direction to finding the right desktop microphone for you.
Accuracy in speech recognition is subjective and based mostly on your style of dictation.
When it comes to dictation, the accuracy that you can get is very subjective. Good equipment like quality microphones can only go so far and you must work on your dictation style and etiquette to be able to increase accuracy. A clear, slow and well enunciated sentence will be picked up better even if you are using a low quality microphone.

So while the suggestions are based on what I and others have experienced with these microphones, it's going to be up to you to choose one that you can use comfortably, with the necessary features to give you the best chance of successfully dictating with speech recognition software.
So let's begin…
Here below are some of the top microphones used for speech recognition software dictation. They are listed in no particular order, so just go through the list and find the microphone that has a specific feature you want. You can then go on to Amazon or other shopping sites to read the reviews (most of which have hundreds and obviously can't all be listed here) or to make a purchase.
1. Desktop microphones that sit on a tripod, a base or an articulated arm microphone holder (suspension scissors boom arm).
Here below is a list of top desktop microphones that usually come with their own tripod base or can be attached to a microphone arm holder.
* Samson Go Mic Portable USB Condenser Microphone
The Samson Go Mic portable condenser microphone (link to Amazon for price and reviews) is one of the most compact USB microphones there is on the market. It's relatively small compared to the others on this list but still packs a punch. The beauty about having the compact design is that it can be carried with you always be used on both your laptop as well as desktop setups.
Its flexibility allows it to be mounted on your laptop screen, your desktop monitor, a tripod, microphone desk articulated arm holder.
the ability to select your pickup pattern between cardio or omnidirectional mode is what makes this desktop USB microphone great for dictating on software like Dragon Professional Individual.
Dragon requires a direct and clear voice to accurately convert to text. By using the cardioid pattern mode while dictating, the Samson go Mic performs very well. It's very important to be in relatively quiet surroundings when using this microphone, however, as it picks up a lot of surrounding noise. 
You can also use this desktop microphone with other hobbies like singing, listening to nature, voice recording for your videos et cetera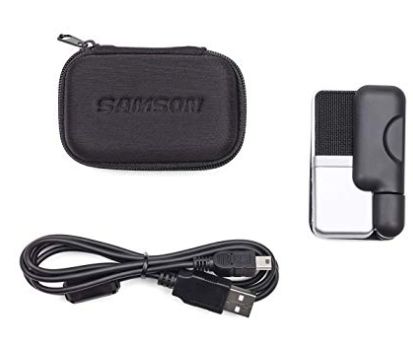 Samson Go Mic main features/characteristics:
Very small and portable design. Once folded, it can fit in the palm of your hand.

It uses a fold-able design with an inbuilt clip that makes it ideal for clipping onto laptops or anything you have around you.

Uses a standard mini USB cable about 3 to 4 feet long (this is a cable that is getting quite rare these days so make sure not to lose yours if you purchase this product)

Has a 3.5 mm jack output for monitoring your voice with a headset or externally powered speakers.

Plug and play compatibility with both Android and Apple computers that accept the USB input device.

Possibility to connect to one iOS device using lightning to USB camera adapter or to connect to an android device using an on the go adapter (both of which are not included).

The microphone has a threaded screw hole enabling you to screw it into most standard camera tripod screw mounts.

The frequency response of this microphone is Cardioid: 80Hz–18kHz; Omni: 20Hz–20kHz
Some things I don't like about this microphone.
Desktop microphone mail pickup most surrounding noise if not tuned correctly.

The inbuilt screen over the microphone capsule isn't sufficient to fully replace a pop filter or a foam cover – so you will have to supply your own.

Still uses the old mini USB connector which is quite rare nowadays.

No bidirectional pickup pattern.
Here below is a video showing this microphone in action with Dragon professional individual.
What I think about this mic.
The Samson Go Mic is a good package for the price you pay. This is a very budget-friendly microphone so there isn't much to expect from it. Its performance is very good for its price so it's perfect for those just starting in dictation and don't want to make too big of an investment in gear. Please follow the link below to continue your research on this microphone and/or check its price currently.
* Audio-Technica AT2020USB PLUS Cardioid Condenser USB Microphone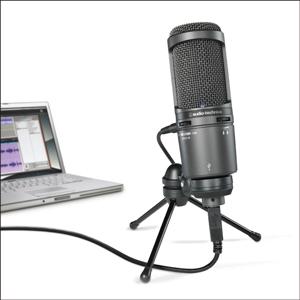 The Audio-Technica AT2020 USB condenser microphone (link to Amazon for price and reviews) is a professional microphone made by a very reputable company in the audio industry. An online reviewer said that "with this microphone, you're stepping into professional sound". 
This microphone is very popular for musicians, YouTube content creators, broadcasters and other professionals or hobbyist that require high-quality voice recording. The quality of voice recording is actually what makes this condenser microphone great for dictation with Dragon professional individual. 
To some, a prograde microphone like this may be overkill for dictation. Those who dictate professionally, however, know that you can avoid many hours of corrections and proofreading your work by simply having the more accurate microphone in the first place.it's all about investing in the right equipment to save you headaches down the line.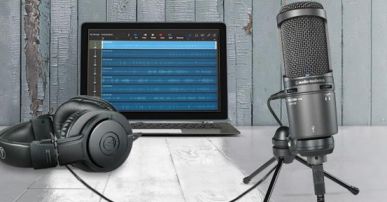 Audio Technica AT2020 USB main features/characteristics
Plug and play USB microphone that works for both Macs and Windows computers.

Cardioid one directional microphone for quality vocal recording.

Frequency responses 20 to 20,000 Hz. The sample rate is 44.1 kHz/48 kHz

Requires just a USB five votes power supply (usually provided by your computer)

Has a mixed control dial as well as a headphone volume control

Has a 3.5 mm audio output jack for monitoring your voice during recordings.

Comes with his own tripod stand, threaded adapter, soft protective pouch.

Can be mounted onto 5/8 inch – 27 threaded stands and has an adapter for 5/8 inch – 27 to 3/8″-16.
Some things I don't like about this microphone.
Unfortunately, like most cardioid microphones, background noise will be picked up.

Most reviewers lamented it's build quality and finish.
What I think about this mic.
If you want a professional-grade microphone that is going to work very well for dictation but also other professional work, the Audio Technica AT2020USB is right there at the top of the list. Just make sure you are in the relatively quiet surroundings for your dictation work.
In this product range, its price is fair and it comes with the relevant adapters and accessories needed to mount it to your microphone boom arm or tripod stand. Due to its popularity, many extra accessories can easily be picked up online.
* Rode NT-USB Cardioid Condenser Microphone
Rode is an Australian company that caters to vocalists, podcasters, content creators and other professionals that depend on quality audio gear for their work. The Rode NT-USB (link to Amazon for price and reviews) is one of their most popular cardioid condenser microphones.
A couple of members of the Dragon Riders Facebook group (probably the biggest Facebook groups about Dragon professional individual users on the Internet) swear by this microphone. The voice quality is clear and that is exactly what Dragon needs for accurate text-to-speech work.
Main features/characteristics of the Rode NT USB

The microphone comes with its pop shield and tripod stand.

Beautiful fit and finish

Frequency range 20 Hz to 20,000 Hz

16-bit resolution

Half inch microphone capsule

Dial for microphone sensitivity as well as headphone volume.

Comes with a 3.5 mm stereo headphone jack for audio monitoring. Rode claims this is a zero latency output system.

6 m Standard USB connection for both Mac and Windows computers.

Compatibility with Apple iPad.

Requires USB power only.

Screws into any standard mic stand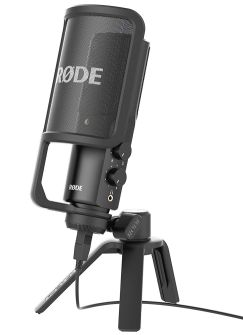 Some things I don't like about this microphone.
Incredibly sensitive microphone. This microphone will pick up the sound of your neighbour's cat sipping water. If you don't have a quiet location, you can avoid this microphone.

Materials used to build the microphone could be better. Some online reviewers claimed that the microphone parts simply just started breaking after some time.
What I think about this mic.
If you're not just looking for a dictation microphone, but you intend to also use it for all the audio work, this is a great microphone to have. It is very sensitive, just like many other cardiac microphones, you will need to learn how to dilate down based on your surroundings. If you live in a very noisy place with people speaking around you, this microphone won't perform well for dictation.
* Blue Yeti USB Microphone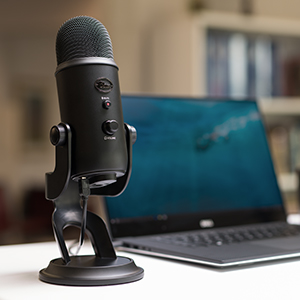 We all know the Blue Yeti microphone (link to Amazon for price and reviews). It is the one the YouTubers content creators all love. The company that created it confidently names it "the mic of the Internet" on their sales pages.
While it is severely overhyped, there is no denying the fact that the blue yeti microphone it's still one of the top USB cardioid microphones available on the market. From voicing over your YouTube videos, two recording audio onset, to podcasting, the blue yeti microphone is the Jack of all trades.
On the Dragon Riders Facebook group, many members use the blue yeti is their main dictation microphone and have good success with it.
The microphone capsule is a very sensitive one, so if you're going to be dictating with this to Dragon professional individual, the sensitivity has to be dialled down a lot to be able to capture your voice clearly and exclude surrounding noise.
Blue Yeti Main features/characteristics.
Good audio and voice recording quality.

Heavy and well-built microphone made of metal.

Has the standard microphone thread for installation on shock mounts, /microphone boom arms and other tripods.

Has three capsule array with its three condenser microphone capsules, enabling you to record in almost all kinds of situations.

It's pattern selections are cardioid, stereo, omnidirectional and bidirectional. The cardioid setting is what you will be using during your dictations.

Frequency responses 20 Hz to 20,000 Hz with a sample rate of 48 kHz and a bit rate of 16 bit.

Gain control knob for dialling down or up the microphone sensitivity.

It has a zero-latency 3.5 mm jack output for your headset voice monitoring.

There is a frontally placed mute button which led light indicator for quick mute and on mute of the microphone with visual confirmation.

Plug and play with USB to both Mac and Windows computers.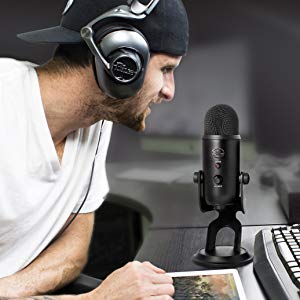 Some things I don't like about this microphone.
It is massive, bulky and heavy. This means that you are fixed to your desk and moving it around with you becomes quite uncomfortable. It's weight also limits you to the number of accessories and mounts that can support it.

A very sensitive microphone that picks up all the noise around you.

Still uses a mini USB cable which is quite rare and on its way out.

Delicate USB port so be careful when plugging and unplugging your USB cable.
What I think about this mic.
The blue yeti microphone is a good all-rounder. Don't fall into the hype created by its massive online backing. Do your research especially in the reviews online. If you want a sturdy microphone that is going to get the job done at a fair price, I have no problems recommending this. There are however other microphones on this list that will give you more bang for your buck.
* Shure SM7B Cardioid Dynamic Microphone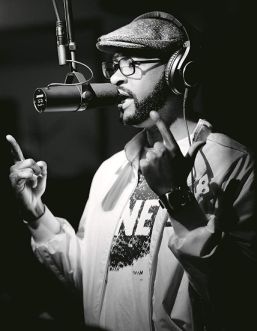 The Shure SM7B microphone (link to Amazon for price and reviews) is a professional grade microphone the posts very clean and natural reproduction of voice for both music and speech recognition. It is very popular among podcasters, journalists, radio and TV hosts, interviewers, musicians, YouTube personalities and so on.
This is one of the highest quality microphones available on the market for this type of work and you will see it featured on popular breakfast shows and popular YouTube videos. Its high price is reflected in its build quality. This is not a cheap microphone.
Main features/characteristics of the Shure SM7B Cardioid
Sturdy metallic Build. Dark grey enamel aluminium and steel case with a dark grey foam windscreen.

Inbuilt pop filter guarding against blue sieves, explosive breathing sounds, even for very close-up narration/voice-overs.

Improved rejection of electromagnetic hum and shielded against broadband interference such as those emitted by computer monitors or TVs.

Utilises a yoke mounting system with a captive stand nut for quick mount and dismount as well as microphone position adjustments.

Cardioid polar pattern that concentrates on the direct voice in front of it rejecting off-axis noise.

Frequency response of 50 to 20,000 Hz

Integrated, captive nut for ease of attachment to stand, fits 5/8 in.–27 thread.

Net weight is 765.4 grams (1 lb, 11 oz)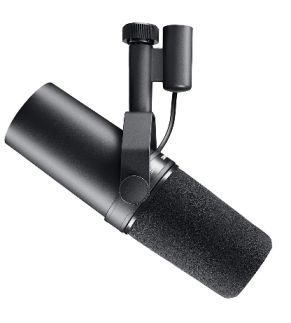 Some things I don't like about this microphone.
Prices a bit high if you intend to use this just for dictation alone.

Some online reviews mention that it does not do a great job of rejecting ambient audio, so it's got to be used in a properly prepared studio. 
What I think about this mic.
 If you're a professional author or any other person who has to depend on the best quality vocal reproduction and recording, the Shure SM7B cardioid microphone is the one to get. This is a solid investment that will repay itself over time with fewer headaches and frustrations especially with dictation and Dragon professional individual.
The better your voice is captured by a microphone for the software, the more accurate your dictation will be and the less time you'll spend editing, proofreading and correcting mistakes (this is the most time-consuming aspect of dictation and you could easily spend 2 hours editing for every 1 hour of dictation you do if the result is not that accurate.
* Fifine K669 USB Podcast Condenser Microphone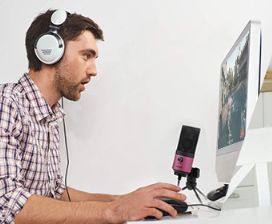 The Fifine K669 condenser microphone (link to Amazon for price and reviews) is one of the most popular cheap microphones online right now. Stylish and relatively well-built, this microphone provides a lot of functions, performance and features for the price.
The voice quality is a bit thin and lacks the richness and base of the higher-end microphones like the argue technical or blue yeti. With a little bit of post-processing, you may be able to match the output of those bigger brand microphones. 
Main features/characteristics of the Fifine K669

Well designed and metal build for the main microphone section

Comes with its own tripod with an adjustable joint for turning/rotating the mic in whatever direction you want.

Inbuilt threaded adapter for standard microphone mount installation.

Mic volume/sensitivity dial at the front of the microphone.

Cardioid polar pattern.

Plug and play USB powered connection with Mac and Windows computers.

Very light and easy-to-use.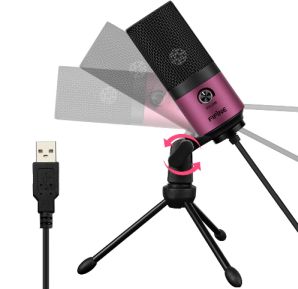 Some things I don't like about this microphone.
No mute button on the microphone

Overall cheap build (you get what you pay for)

Most online reviewers found the audio volume recorded by this microphone to be a bit low.
What I think about this mic.
When it comes to dictation, Dragon professional individual needs a clear, loud and relatively noiseless voice input. The Fifine K669 can deliver that as long as it's not too far away from your mouth. There are quite a lot of reviews specifically mentioning its performance with speech recognition software. It's not the best, but a worthy entry-level microphone if you're just starting out and want to keep investments into your gear at a minimum. 
* Samson G-Track Pro Professional USB Condenser Microphone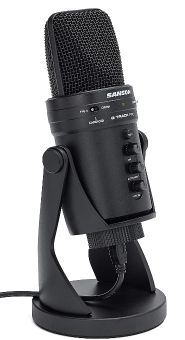 The Samson G-Track pro (link to Amazon for price and reviews) is Samson's answer to the Blue Yeti microphone. Just look at the similarities in build and design.  This microphone looks like a tank. The Samson G-track has three dials on the front, instead of one on the blue yeti. 
There is a dial for the microphone volume, the instrument recorded volume and the headset/headphone volume. This is because this microphone comes with an audio interface that enables you to record not just your voice, but an instrument as well, at the same time.
The biggest benefit to following in the steps of your competitor is that you can one-up them with a product that has better value and better features. This microphone caters to professionals like singers, broadcasters, YouTube content creators etc. 
Main features/characteristics of the Samson G-Track

Sturdy, full die-cast zinc metal build.

Microphone weight is 1.7 lb 770grams

Audio interface to record an instrument. 1/4″ instrument input for connecting guitars or line-level devices.

Standard thread for mounting on microphone stands, arms or booms.

Dual 1" or 25mm condenser microphone capsules with three pickup patterns selectable. Omnidirectional, bidirectional, unidirectional cardioid.

1/8″ or 3.175mm jack for monitoring audio via headphones.

Plug and play USB microphone compatible with Mac and Windows computers.

Additional software is provided for free. The Motu Audiodesk
Some things I don't like about this microphone.
While this mic is solidly built, it won't be the most portable. It is quite heavy.
What I think about this mic.
The extra features like those mentioned above are not of use to us for speech to text dictation though they may come in handy if you decide to do audio recording work in the future or you are a content creator. The main reason why this microphone is on this list is that it is a Samson microphone and the voice quality it produces is crisp and clear. This is all that is important as far as Dragon or any other speech recognition software are concerned. 
One online reviewer specifically mentioned using this microphone to dictate while in the car on a journey. The resulting product of the dictation was very accurate despite it being quite noisy in the car.
2. Best desktop (flexible) gooseneck microphones with a base.
A gooseneck microphone has its microphone capsule attached to a flexible "gooseneck" metal rod fixed to a heavy base. The main benefit of this design is that you can keep the base at a distance and out of your way while having the microphone capsule projected to your face. Once you are done using the microphone it can be moved out of the way easily and out of sight. 
These types of microphone are very popular with preachers at the pulpit, presenters on stage or at meetings and many more. The biggest benefit for us who dictate is the ability to have a great microphone that can be positioned right to our face leaving us handsfree when compared to a headset.
Here below are the top gooseneck microphones for speech to text dictation.
* SpeechWare 3-in-1 TableMike Noise cancelling USB Microphone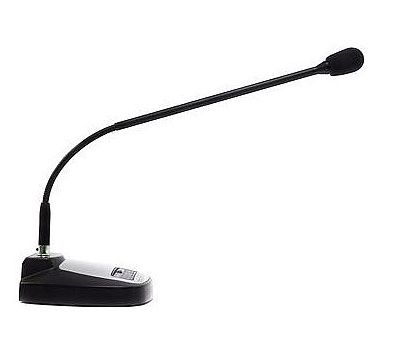 The SpeechWare 3-in-1 TableMike (link to Amazon for price and reviews) is one of the best table microphones for use with speech recognition software such as Dragon professional individual.
It is a multiple best in class award winner according to Nuance, the creators of Dragon software.
A product of SpeechWare, a company based in Brussels and one of the foremost producers of equipment for speech recognition, digital dictation and optical character recognition.  They provide microphones and peripherals to the EU commission.

Main features/characteristics of the SpeechWare 3-in-1

Specifically optimized for speech recognition software like dragon professional individual.

Premium build quality.

Detachable and interchangeable flexible microphone boom (40 cm or 16″)

Detachable and Interchangeable microphone boom with a flexible tip for perfect positioning.

integrated Digital Sound Processor (DSP), Speech Equaliser (EQ) and Automatic Gain Control (AGC) for long and variable range dictation of up to 50 cm or 20″.

Standard 3.5 mm Mic input and output sound jacks.

Wideband and 20 kHz High Definition VoIP.

Mac and Windows computer compatible.
Some things I don't like about this microphone.
Quite pricey even for this entry-level tablemike.

Claimed accuracy from longer distances away from the microphone is not a given and is highly dependent on the user. Loud, clear speech still required for accurate dictation. 
What I think about this mic.
Being a microphone specifically optimized for speech recognition and dragon, the speechware 3 in 1 table mike sets the standard for how desk mikes should perform with dragon software. This is an entry-level tablemike microphone and it is perfectly fine if you don't need extra features found in the more expensive higher models like foot pedal mic control etc.
* Fifine Desktop Gooseneck Microphone K052
Fifine as a newcomer brand is making a name for itself very quickly. They are producers of relatively inexpensive microphones which boast good quality audio recording capabilities. The Fifine K052 microphone (link to Amazon for price and reviews) brings this capability to the gooseneck desktop form factor. 
This microphone is not just for dictation but can be used for live chats, IP communication, skype chats / another Internet telecommunication as well as for game chatting.
Main features/characteristics of the Fifine K052

Features two adjustable flexible shafts with a total length of 12 inches / 32.5 cm from the base to the microphone capsule.

Microphone construction is from metal and ABS. The base has a nice weight to it to prevent the microphone from moving around the table.

259gr of weight

Features a gain dial on the base. This is a very handy feature for a gooseneck microphone.

There is a big mute button on the base to mute the microphone while in use.

The microphone rejects of axis sound blocking background noise as well.

Frequency responses 50 Hz to 20,000 Hz.

2 m long USB cord.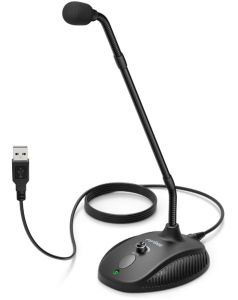 Some things I don't like about this microphone.
The sound quality isn't that great and there are better performers out there.

There is still some background noise picked up by this microphone even though it claims not to.

Length of gooseneck relatively short.
What I think about this mic.
This fifine K052 mic well built and packs some nice features. I like that it has the dial for gain control, as this is not usually found on most gooseneck desktop microphones.
Overall, it is a good buy for dictation with dragon software especially if you're just starting out. Most online reviews from real users claim to have comparatively great accuracy when compared to the more expensive options available. 
* Sound Tech GN-USB-2 18 Inch Professional Unidirectional Noise Canceling Gooseneck Stereo Microphone 
The Sound Tech GN USB 2 microphone (link to Amazon for price and reviews) is a nice and cheap microphone that performs well with speech recognition software like Dragon. The recorded sound is a bit tinny and tunnel-like though. 
There are overwhelmingly positive reviews online specifically mentioning how good this desk microphone is and accuracy it provides during dictation even with the microphone capsule 1 foot (30 cm) away. 
Main features/characteristics of the Sound Tech GN USB 2

16 inches / 40 cm adjustable gooseneck.

Weighted base with non-skid rubber mounts.

Gooseneck has two bending points.

Long 10 ft / 3m USB Cord.

Unidirectional and noise-cancelling microphone capsule.

Indicator led light for on or off microphone status.

Frequency responses 40 to 16,000 Hz
Some things I don't like about this microphone.
Sound recording is just okay.

The desk microphone's mute button does not keep it permanently muted. So it has to be pressed once again after a while to mute the microphone.

Not the most premium quality materials used in its build.
What I think about this mic.
When you find a product that performs well at a good price, there is an overall positive feeling that you're getting the best bang for your buck. This is the exact feeling provided by this microphone and I have no problems recommending it for those starting or those wanting to ditch their headsets for a more hands-free dictation experience.
3. Dedicated hand-held dictation microphones for dragon professional individual

Here below are the top hand-held microphones that are specifically made to be used with speech recognition software like dragon professional individual. These types of microphones were designed almost exclusively for dictation work and also come with additional functionalities and shortcuts. They are, however, more expensive than regular desktop microphones. This is because these dedicated handheld microphones are geared more towards professional users who value dictation accuracy and can't afford to waste time in editing.
Section under construction
In conclusion
I hope you got an idea on the type of desktop microphone that will work well with your dictation . This article will constantly be updated with new products being added based on how popular they get in the dictation community.
If you have any of these products and want to share your experience with them, feel free to use the comment section below.
Thanks for visiting. Best wishes.