Steno SR Pro 1 2 Best Stenomask Review
Where to Buy: Steno SR Pro 2 on Amazon – Steno SR pro 1 on amazon
Producer: Talk Tech Technologies
Introduction to TalkTech Steno SR Pro Mask Series
Welcome to this review of the steno sr pro 2 voice silencer mask (the SR abbreviation meaning speech recognition). After thoroughly looking through the product and reading multiple online reviews on the big shopping websites as well as dedicated forums, I will be sharing what I found out about this range of products and let you know if this is the right tool to add to your arsenal.
What exactly is the steno mask SR pro?
The steno SR microphone mask is a hand-held portable sound booth that is pocket sized. It is a vocal mask containing a microphone (in the case of the steno SR pro 2, 2 microphones) that is built into a soundproof plastic enclosure and it fits over your mouth (and nose with the right accessory).
The main reason why it exists is to provide silence, vocal isolation and privacy for your recordings, dictation or other needs. The manufacturers actually claim that this is the best noise-cancelling device when compared to any other microphone available on the market.
With this product, you will be able to speak in public places without any risk of being overheard. Also, the fact that the microphones are enclosed in the very padded enclosure makes for a very clear recording with optimum noise cancellation.
What are the main differences when comparing the Steno SR vs Steno SR pro-1 vs Steno SR Pro-2
The "pro" in the naming means professional and included extra features in hardware and build. The Steno SR pro 2 has an extra microphone and an extra 3.5mm jack output. Hence the 2 in nomenclature. Here below is a table showing you the differences of all of the steno mask SR pro range in more detail.
Main features of the steno SR pro range.
Dependable technology perfected over a 70 year period.
Complete noise-cancelling as well as insulation enabling you to use this literally anywhere in privacy.
Soft leatherette cushion and padding for the face-piece section that goes over your mouth.
Ergonomic shape permitting you to use the standard mask with either your left or right hand.
There is a breathing port/hole in the steno mask that enables you to speak and breathe naturally. Avoiding the reflection of sound waves back down your throat.
Lightweight and comfortable to use. 4.8 ounces (136 gr) of weight.
Mouth-Only Face-piece dimensions 3.25″x5.5″x2.5″ – 8.26 x 14 x 6.4cm
Inbuilt hardware gain adjustment to enable the microphone pickup just the right level of voice *Available in pro version ONLY.
A range of accessories including a desktop stand with articulating arm and a head-strap for complete hands-free use.
Standard gold-plated 3.5 mm stereo jack allowing for use with a whole range of devices with or without adapter cables.
Plug and play technology. Simply plug into your device and it's ready to go.
United States military approved durable steno mask.
Long three-year warranty.
Some drawbacks I noticed with this voice silencer mask.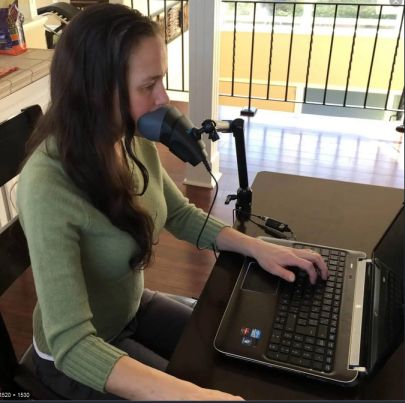 No product is perfect and neither is the steno SR pro. While most people will consider this product to be quite weird to use and will find anyone using it in public funny, that is not the main issue with the product.
As long as it works well, there is no reason to pay attention to what others may think about you using it. The biggest issue I find with using such a product is the fact that it has to be held on to the mouth at all times while speaking.
Even though you could go completely hands-free with the use of accessories, you still have that mask attached to your face by strap around your head or have to lean into the mask held by the desk stand.
Maybe this is something you may get used to with prolonged use of the steno mask. Or maybe this product may not be for you simply based on this fact. It's up to you to weigh the pros or benefits of using such a mask for your work compared to this con.
A few reviews online also stated that the foam covering the microphone capsule is a bit thick and might muffle your voice. A user went as far as changing it with an old microphone screen and this solved the problem.
What can this voice mask be used with?
The Steno SR pro microphone cable terminates in a TRS (tip, ring, sleeve) 3.5 mm jack. This opens up a whole host of systems the steno mask can be used with if you get the right adapters and cables. Here below is a list of possibilities:
It can be used with the computer. It is recommended to use a 3.5 mm jack to USB adapter sound card to get the best quality voice recording on the computer. The reason is that you want to bypass your computer sound card with the 3.5 mm jack input of it. Here's a link to Amazon for the USB sound card that you will need to make this work.
It can be used for voice recording on your smartphones and tablets as long as they have a 3.5 mm jack input. You will need an adapter to convert the TRS 3.5 mm jack to the TRRS (4 rings) 3.5 mm jack used by most smartphones manufacturers. With this, you will be able to dictate or record directly into your smartphone using the standard mask in full privacy no matter where you are. Here is the link to Amazon for the exact type of USB cable adapter that you will need to make this work.
It can be used with digital voice recorders. The steno mask can be used with a digital voice recorder that has 3.5 mm jack input for an external headset microphone. Most digital voice recorders today have 2 female 3.5 mm input jacks. One for a microphone, which is usually symbolised with red and the other for sound output which is usually green. The steno SR pro mask can plug directly into the microphone input jack with no extra adapters needed.
It can be used with transmitters, amplifiers and two-way radio systems. Simply plug the steno mask's 3.5 mm jack into your transmitter or two-way radio system and take advantage of the complete noise isolation/cancelling microphone feature of the product. Now you can transmit crisp and clear noiseless vocals over the radio.
Where Can This Voice Silencing Mask Be Used?
Here are some ideas of where you can use the steno mask SR pro and do your work without disturbing others or fear being overheard by them. This is a compilation of ideas from across the Internet.
You can use it at home for work even if you have guests or family members around.
You can use it in public places like airports, trains, buses, hospitals, waiting rooms, courthouses and the list goes on infinitely.
You can use it to report from very noisy places like stadiums, concerts, theatres, festivals, protests and many more places where you are not in control of the loud noise around you.
Stenomask accessories you may need to significantly improve the use of this product.
Here are some of the accessories that you may need to make the most of your steno mask SR pro microphone.
The Hands-free Strap.
This hands-free strap transforms your hand-held steno mask microphone into a fully hands-free system with the strap attaching and keeping the steno mask to your face over your mouth.
While I don't know how comfortable this will be for you, it may come in handy once you get used to it. The reviews online are not too positive about the strap.
One user mentioned it being too small/tight and that it gave a feeling of the mask remaining tightly suctioned against the face. With a little bit of DIY skills, you should be able to have this strap regulated to fit to your head size. It's just a pity that it doesn't come this way already from the producer.
The Desk-mounted Articulated Arm Steno Mask Grip.

Like an articulated desk lamp or microphone holder which is attached to your desk or table using the C clamp, this arm is specifically made to hold the steno SR mask in position, enabling you to work hands free. It is a bit expensive though at just under $160.
Here below are some of the features of this stand quoted directly from the product website:
2 x 22 inch (56 cm) long arm adjust to provide optimum positioning.
Ultra durable and solid construction.
All parts lock into place & remain in place as long as you require.
Clamps opens to 1.75 inches and fits onto tables, desks, carts, workbenches, or wheelchairs.
Compatible with all Talk Tech masks (Sylencer, SmartMic & SR models).
Mask slides in and out of holder, friction grip holds mask tight, no straps or fasteners.
Clamps on front, side or rear of your desk or surface.
Two 11 inch articulated arms and 360º swivel, enable maximum reach and maneuverability.
Use your stenomask for long periods with limited fatigue and better posture.
Compact folding design fits in a briefcase, easy to install & uninstall.
One year warranty.
Adapter Cables For Your 3.5 mm Jack.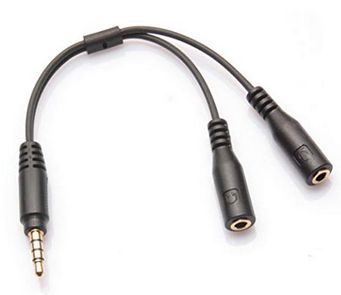 To really make the steno mask SR pro truly flexible and versatile with your many systems, you will need Y adapter cables. The output jack of the steno mask is a standard 3.5mm TRS stereo jack (see the above image).
For your tablet, smartphone or computer that has it TRRS input jack (see the above image), you're going to need this adapter cable that will transform the three-ring TRS 3.5 mm jack to a four-ring TRRS 3.5 mm jack that can be plugged directly into your smartphone, tablet or combined jack on your computer.space
For use on your computer, it is advisable to convert the analog signal coming from the standard 3.5 mm jack  into a digital signal outputting via USB. There are many USB sound card adapters for this that accept your 3.5 mm jack, digitalise the signal and it outputs through USB.
Here is a link to one recommended by the producers. It is made by Andrea communications which is a well known brand when it comes to all things audio. Feel free to check on Amazon for any other sound card that you may prefer as they are almost all very similar and what separates the high-end sound card adapters from the cheap ones is build quality and the electronic components used in its build.
3.5mm Female to Male Stereo Extender Cables.
Considering the length of the microphone cable that comes with the steno SR pro voice mask, you may want to have more liberty to pace around your room. If this is the case, there are TRS female to male extender cables  you can plug in your steno mask 3.5 mm jack into that give you extended length.
Just make sure you are buying an extender cable that has a female and male TRS jack. The TRS female jack to plug your TRS male jack that terminates the stenomask cable and a TRS male at the end of your extender cable that duplicates the TRS jack at the end of your steno mask SR pro.
How to Clean The Steno SR Pro Mask?
Keeping the mask clean is a simple procedure. Here below are the steps to take. Important, do not use alcohol to clean the mask internals.
Remove the rubber face-piece from the handle by pinching the rubber where it meets the handle and lifting up gently.
Inside the handle, you'll find the acoustic foam. Pinch the foam on both sides, rotate 90° and  pull it out.
The foam and face-piece can be washed normally in warm soapy water and then with clean water. Wipe interior walls of the handle with a wet towel and then dry.
Reassemble everything in the reverse order.
Who Is This Product For?
Steno mask for speech recognition dictation with dragon.
The manufacturer of the steno mask, tech talk technologies, claims that this is the best microphone to use for the most accurate output from Dragon professional individual (formerly called Dragon NaturallySpeaking). While this is a very big claim, I can understand why they made it.
Software like Dragon Professional Individual require a clean voice input. The fact that the steno mask can eliminate almost all external noise and provide such a clean vocal to the microphone capsule can go a long way in giving you high accuracy with your dictation.
Here below is a video showing the steno mask in use dictating with Dragon professional individual.
Most users online reviews claim to have good accuracy with Dragon using this mask. I am currently dictating this post itself in my living room with my daughter playing around, with the TV going and my wife there as well. Dictating this with my Jabra headset means I have to speak out loud.
My family obviously understands what I'm doing, but this can be a problem if visitors were present. The privacy that the steno mask sr pro provides means that I can dictate my content almost from anywhere. It totally eliminates that problem of people listening in on what you're saying.
If you're going to use this steno mask with a computer, it is highly recommended that you use the USB adapter module mentioned above. It's useless to dictate in analog format and then have your nice quality voice be distorted by static frequencies from your computer's analogue sound card/fan noises and other frequencies going on in and around your computer. Using a good USB sound card will help eliminate that problem.
Stenomask for Court Reporting
More and more court reporters are turning to stenographers masks to do their reporting. This product is actually best for these types of professionals. They are in a high-stress environment, with a lot of words being spoken that they have to transcribe.
No matter the speed of your typing, speech will always be easier and many times faster. Steno mask training is required to be able to become a certified verbal team court reporter. This training could take six months to a year.
Steno masks for doctors and other medical workers.
Workers in the field of medicine have lots of documentation to prepare. Most of this documentation is very sensitive and should remain secret. A product such as the steno mask will provide such privacy. With the correct training, high transcription accuracy can be achieved by these workers using steno masks.
Steno masks for law enforcement agents.
Once again a lot of documentation have to be produced by these agents. Most of this documentation is highly sensitive and has to remain private. The use of the steno mask like the steno SR pro can provide a safer, quicker and more accurate way for the generation of incident reports and other types of paper work.
Steno masks for teachers and educators
Teachers, educators and other people in academia work with a lot of documentation. Steno masks can help them create this content quicker and more easily in security and privacy.
Stenomasks for gamers.
Whether you're a competitive or casual gamer, the need for conversation with other players or the ability to record your gameplays without disturbing other family member or members or neighbours can create a more pleasurable experience. Combined with the various hands-free systems such as the velcro head strap or the desk mounted articulated arm stand, you will be able to enjoy playing your games and make little to no noise.
Questions and answers (FAQs) about the Steno SR steno mask range of products.
Q: How loud can you speak before others around can hear you?
A: You can be quite loud within reason and people around you will hardly hear exactly what you say.
Q: Is the microphone adequate for singing loudly and screaming?
A: No, it's not. The microphone is very close to your mouth hence you will end up peaking your audio if you shout loudly or scream.
Q: Is it threaded enabling it to be attached to a standard tripod?
A: No it's not
Q: What is the main difference between the pro version 1 and the pro version 2?
A: The steno SR pro 1 contains one microphone and one output jack, while the steno pro 2 has two microphones in the enclosure, 2 cords with 2 3.5 mm jack outputs.
Q: How can I use this steno mask hands-free?
A: You have the possibility to use a velcro head strap to attach it directly onto your face or you can buy an articulated arm desk stand. This stand attaches to your table using a C clamp and holds onto the steno mask by friction with no fasteners. You simply slide into mask into the attachment.
Q: Do the steno SR series have the microphone tuning dial?
A: No, this is present in only the pro series.
Q: What kind of output plugs are available with the steno masks?
A: You can either choose a ⅛ inch (3.5 mm), ¼ inch (7.35 mm)and in XLR (three prong) male plugs.
Conclusions
You can see from the exhaustive review above that the steno SR pro range of products perform well in their fields. It's an obvious and simple concept, but it works. The product is well made, from a reputable company and used by a lot of professionals.  From the stay-at-home mom dictating into a digital voice recorder for her blog, to the top brass in government agencies.
I will continue to update this review as more information comes through. I hope the review above helped you understand what the product is and if it will actually be good for you in your work.
I love to read your comments if you are currently using this product and what results you're getting from it.
Thanks for making it this far and as always, I wish you all the best in your endeavours.