Benefits of Taking Guitar Lessons Online
Updated on December 2, 2018

Several online sites are providing guitar lessons; some even do it at no cost. Free beginner online lessons as well as free trials are usual offers, but people must keep in mind that they actually get what they pay for. They will discover that the experts and the artists have created websites that present some helpful tips and good instructors and lessons for players of all levels. There are available lessons online for beginners and experts to learn guitar.
Not everyone really likes to play professionally. Some just want to learn a few chords so they can make an impression to their families and friends. Or possibly, they just do not have the luxury of money and time to engage in private guitar lessons.
For these reasons, having guitar lessons online is ideal. A person is in control of his time, his location and the speed of learning.
There are several benefits if a person opts to take guitar lessons online. In general, after going through free lessons, the cost of these lessons within a month is lower than a one and a half hour lesson with a private instructor at his studio or at his home. Having a job, a family and some tasks to perform every day will sometimes hinder someone from learning something. Guitar lessons may be difficult at times and might be a challenge before it happens.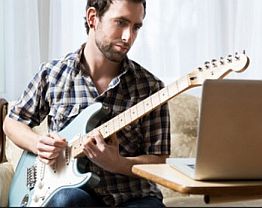 The Internet is an edge which anyone can take advantage of. Anyone can take lessons whenever he has the time without having him to live the comfort of his home. Guitar lessons online are typically better in giving assistance to someone to keep his focus than a book containing various guitar theories.
This type of lessons also offers animated images, graphics and demo sounds which are making the learning process a lot easier. This indicates that there are images, videos and some written instructions to serve as learning aids. In case, difficulties are experienced, the instructors would love to help in any way possible.
Another benefit of the guitar lessons online is these are reasonably priced. A one-on-one lesson may charge per half hour or per hour. If you would compare, an entire month of online lessons is lesser than or equal to the amount of one private guitar session. In addition, as you move forward with your learning levels, usually, you will still ask to pay the same price. Although you have to invest a bit of your time and effort to improve playing skills, it is worth it.
With guitar lessons online, you are virtually unrestricted with whom or where you want to take your lessons. You are free to choose the style and instructor. You can always find the lessons that will fit your needs and budget. If you think you that the lessons are no longer sufficient for your needs, you can always look for supplemental materials.
There are several discussion communities and testimonials where you can join to get connected with people who can relate to you and suggest something useful.
So if you are searching for an effective yet affordable way of learning guitar, online guitar lessons are accessible anytime of the day. You have the option to subscribe for a genuine guitar guide if you like to have your personal guitar lesson.
I hope we helped you have a quick look at what are the Benefits of Taking Guitar Lessons Online.
Feel free to ask questions and comment below if you have anything in mind.
Thanks again for visiting and I wish you good luck.
John