Jazz Piano Online by Bill Rinehart
Updated on December 2, 2018
Jazz Piano Online Review.
The Product: Jazz Piano Online
The Owner(s): Bill Rinehart.
Price: $44.95
Website: http://www.jazzpianoonline.com/
Bill Rinehart Story
In this review, we here at Review2Sound are going to take a look into this product by Bill Rinehart.
Jazz Piano Online is a digital library of interactive streaming video lessons developed by Bill Rinehart. It features jazz piano lessons and provides intermediate to advanced lessons. Bill is a jazz pianist. He has taught and played piano within the Boston area for two decades. He relocated to Raleigh-Durham NC and teaches full-time on the Jazz Piano Online.
The Jazz Piano Online lessons cover Jazz Theory & Composition, Improvisation & Licks and Chords & Voicings and more. These are all accessible on any touch screen devices, PC and Mac. You can practice whenever you like using the printable PDF Practice Sessions.
Jazz Piano Online Features Overview.
These are the benefits a Jazz Piano Online subscriber can enjoy: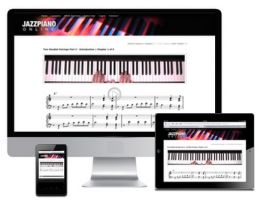 Study Jazz piano online easily.
Synchronized videos with annotated notation.
Clear instructions.
PDF formatted practice sessions.
Limitless library access.
With the Jazz Piano Online subscription, one can get learnable video tutorials on their devices. Every lesson is transcription-based, meaning the concepts and techniques offered are derived from expert musicians playing on different recordings.
What You Get In The Product.
This is the Jazz piano lesson road map provided by Jazz Piano Online:
Prerequisites
Free Five Essential 7th chords
Major ii-V-I Progression (Free) and Minor ii-V-I Progression
Rootless Voicings with Added Tension
Jazz Theory & Composition
Improvisations & Licks
Chords & Voicings
Styles, Arranging and more
I hope we helped you have a quick look at what Jazz Piano Online can offer you in this review.
Feel free to ask questions and comment below if you have anything in mind.
Thanks again for visiting and I wish you good luck.
John