Updated on December 2, 2018
Jamorama Review.
The Owner(s): Jon Coursey.
Price: $10/month – Single Membership; $50/quarter – Gift Membership
Website: http://jamorama.com
Jon Coursey Story
In this review, we here at Review2Sound are going to take a look into this product by Jon Coursey.
One of the simplest ways to acquire or advance guitar skills is to enrol in the Janorama by Jon Coursey, where one can practice playing their guitar with backing tracks. The Janorama's backing tracks are in video form; this is alright when you wish to try the jam along part as a component of your lesson.
Jon has worked hand in hand with David McKinnon in the past to develop the first Janorama version in the local University's copy center. They were just using paper and pen then. From that point, Jon educated himself about web design and has been responsible for the site's coding for each device.
This online guitar tutorial grants students the right to develop their confidence towards playing songs they have listened over the radio. Like the product hear and play, Jamorama is a course that wins starters from their standpoint to where there visions are.
Jamorama Features Overview.
When you are all set to start your journey with Jamorama and online learning, you can learn whatever you like to learn, whenever you like and practice with instructions from the experts. Here are the major benefits of patronizing and being a member of this online program: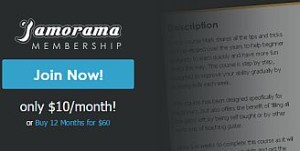 Frequent addition of new courses.
You can take the lessons wherever you go.
There is no limit with the access.
Guidance from the expert.
Learning with step-by-step training.
Most recent video and audio technology and editing techniques are used in making video tutorials.
Helpful support system.
Supporting exercise and TAB files are all printable.
To assist the students from point A to point J, step-by-step lessons are created. A formula was developed so that the learners can be brought to the type of learning arrangement they basically needed. The forms of the approach are the basis of every lesson made which makes even the smallest piece of information available any time.
The team behind Jamorama believes that the key to success in acquiring the best knowledge in play the guitar is to learn with application. Their tutors like Mark McKenzie teach the students something and show the process to follow to their new discovered skill. More than 250 thousand individuals are studying guitar with this online tutorial and achieve their almost impossible desired skills.
What You Get In The Product.
Finally, for an affordable membership fee, you can get access to these offered courses by Jamorama:
Beginner Courses (Beginner guitar chords series , Stage I – Beginner Guitar Method, Stage II – Beginner Guitar Method)
Genre Courses (Fingerstyle Guitar)
Maintenance and Care (Acoustic guitar maintenance)
Skills and Techniques (Lead Guitar for Beginners , The 1 Hour Workout , Speed Picking)
Bonus Extras (bonus e-books, software and games)
I hope we helped you have a quick look at what Jamorama can offer you in this review.
Feel free to ask questions and comment below if you have anything in mind.
Thanks again for visiting and I wish you good luck.
John