Guitar Tricks by Jon Broderick
Updated on December 2, 2018
Guitar Tricks Review.
The Owner(s): Jon Broderick.
Price: Free – Basic Membership ; $14.95 – Full Access
Website: https://www.guitartricks.com/v2/index.php
Jon Broderick Story
In this review, we here at Review2Sound are going to take a look into this product by Jon Broderick.
Guitar Tricks was created out of its creator's frustration. Jon Broderick is the founder and the Chief Executive Officer of this company. Jon stopped working as an IT consultant in 2005 to focus fulltime on Guitar Tricks. As of today, he's no longer involved in making drafting and creation of lessons for the company since he is in-charge in managing the site's business.
In San Francisco Bay Area more than ten years ago, Jon Broderick, a guitarist, explored the Internet to look for guitar lessons. To his dismay, he was unable to find one which lead to the birth of Guitar Tricks. Jon's only reason for his search is to learn a few and new tricks that would assist in improving his own skills.
This experience inspired him to design and build a website that allows guitarist of all levels to get better in playing their guitars. From starters to experts, there are skills to develop. The site should help in every fashion possible, from country to blues to rock and more.
Fourteen years after it was built, the Guitar Tricks has established a brand as the first online site to offer guitar lessons.
Guitar Tricks Features Overview.
The Guitar Tricks developer is providing the following benefits to its users: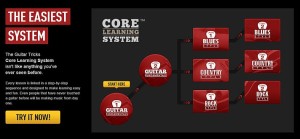 Learn guitar easily with the aid of online video lessons.
Free guitar lessons are available.
Lessons are very clear and easy to digest.
There are more than 500 all-time favorite songs.
Have familiar and engaging instructions.
The quickest outcomes can be achieved.
Not just about learning, but also playing.
The simplest system to follow.
One excellent easy-to-use website.
At this point, Guitar Tricks is proud of it's over 1.9 million members and each day thousands of guitarists across the planet take benefits of its 5,000 available video guitar lessons, which include hundred of famous songs, Ultimate Chord Finder, Jam Station, Ultimate Metronome, Ultimate Scale Finder and other adaptable tools.
What You Get In The Product.
Those who have opted for Full Access Subscribers can enjoy the instruction from the expert from more than 45 great instructors from all parts of the globe. Fortunately, those who wish to start learning guitar have direct access to an accommodating community and a core set of lessons, all free of charge.
Jon is focusing on refining its Core Learning System today. This one-of-a-kind curriculum has aided tens of thousands of guitarists to effectively become skilled at playing the guitar from the very start. Guitar Tricks is consistently making its curriculum better so that it will turn out to be the simplest, most valuable guitar learning program in the face of the planet.
Once chosen, this is what one can get from the Guitar Tricks:
Level I – Guitar Fundamentals
Level II – Guitar Fundamentals
Level I to Level II – Blues Style
Level I to Level II – Rock Style
Level I to Level II – Country Style
I hope we helped you have a quick look at what Guitar Tricks can offer you in this review.
Feel free to ask questions and comment below if you have anything in mind.
Thanks again for visiting and I wish you good luck.
John