Drumeo Edge by Jared Falk and Rick Kettner
Updated on December 2, 2018
Drumeo Edge by Jared Falk and Rick Kettner Review.
The Owner(s): Jared Falk and Rick Kettner.
Price: Depending on the training pack
Website: http://drumeo.com/
Jared Falk and Rick Kettner Story
In this review, we here at Review2Sound are going to take a look into this Drumeo Edge by Jared Falk and Rick Kettner.
Drumeo Edge is an exclusive online drum lessons created by Jared Falk and Rick Kettner. Jared was touring as a musician, teaching private drum lessons and managing the farm owned by his family. On the other hand, Rick dropped out of school to work for Internet startups during the late 90's and was filming easy video lessons for drum forums online.
Drumeo Edge was designed to offer education, inspiration and community support for drummers. In February 2012, the website was initially launched to the public. However, the original ideas began to crystallize a decade before that. The company tells the story of how the team composed of a farm boy and a high school dropout succeeded in teaching individuals on how to play drums.
Drumeo Edge Features Overview.
Drumeo Edge helps people to learn drums from home and can enjoy the following: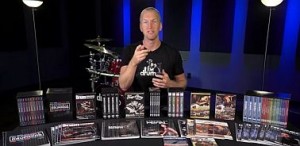 The simplest way to learn drums.
The definitive online drum lessons experience.
Be taught by world-class instructors.
Gain knowledge of award-winning lessons.
Attain personal goals.
Fun play-along songs.
Gain community support.
This online drum experience has 100,425 drummers all across 100 countries studying with it. They have a simple way to study drums just by watching on-demand or live lessons using their smartphone, tablet and any internet-ready computer. With Drumeo, a drummer can learn from over 40 of the world's best instructors with their personal speciality.
In addition, with Drumeo Edge an individual can obtain personalized lesson plans and reviews which are useful in reaching for particular goals. There are also two new play-along songs each month and the drummer get the chance to connect with other drums from across the globe in the community forums or live lessons.
What You Get In The Product.
The team behind this company keeps on adopting advance technologies to enhance the online drum lesson experience they promote. They improve their overall production quality, add live on-screen sheet music and makes new features like Student Lesson Plan and Drum Curriculum and more. If you are interested with Drumeo Edge, you can select among these training packs:
Successful Drumming
Drumming System
Bass Drum Secrets
Maximum Meytal
Cobus Method
Drum Rudiment System
Drum Fill System
Jazz Drumming System
Latin Drumming System
Drum Play-Along System
Moeller Method Secrets
Drum Tuning System
I hope we helped you have a quick look at what Drumeo Edge can offer you in this review.
Feel free to ask questions and comment below if you have anything in mind.
Thanks again for visiting and I wish you good luck.
John